Most Hockey collections start off the same way. A young tyke is given a hockey card or catches a wayward puck while seeing a game with their dad. Perhaps their first set of tickets kept in an envelope or even framed on their wall.
Small and simple is how a great collection starts. Only through time and dedication can you build an amazing collection, and with a keen eye, you might even strike hockey gold!
Every collection needs a holy grail. That one piece that really gets peoples attention when they walk in the room. In an effort to inspire you to get your hands on your very own hockey grail, we have researched the 5 most valuable hockey collectibles that are known or rumored to exist.
You will most likely never get the chance to share the same space as some of these objects in your lifetime, but the list may inspire you to track down the next big thing.
So without further adieu, we present to you (in no specific order) 5 Super Rare Hockey Collectibles.
Paul Henderson's jersey from the epic Canada-USSR series

In 2012, the hockey jersey worn by Paul as he scored the winning goal in the '72 Summit Series against the Soviets sold for 1.275 Million dollars at auction. Never before has a jersey sold for more money, and it will likely be many years before another defining hockey moment as significant as that Summit Series goal takes place.
Guinness listed the jerseys sale under a specific hockey category, but it is believed to be the most expensive jersey ever auctioned off for any sport.
The '72 Summit Series jerseys is therefore solidified as one of the most elite hockey collectibles, certainly by price, but more so through it's ties to Canadian hockey history.
1912-13 Imperial Tobacco C57 PSA-Graded Complete 50-Card Hockey Set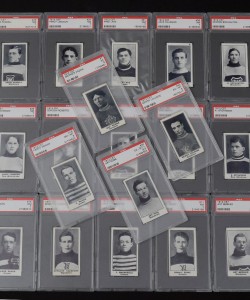 When it comes to collectibles, cards have always held a special place in the hearts of many sports fans. While modern cards are printed in massive quantities, older collections can be much harder to assemble. Finding the right cards from the right year and in a good enough quality to be proud of displaying can be incredibly difficult.
For that reason alone, we include 1912-13 Imperial Tobacco collection, printed over 100 years ago, collected individually to complete a full set. With attention to detail, the collector has aquired a hall of fame lineup of early hockey heroes, including: Spraque Cleghorn, Percey LeSueur, Art Ross, and most coveted of all, Georges Vezina as the sets first numbered card.
Will anything that you own still be around in 100 years? It is amazing that these cards have been cherished and preserved for so long. The rarity of this complete collection is incredible and it's quality is rivaled by only a precious few items.
The Oldest Hockey Stick Ever ('Moffatt stick')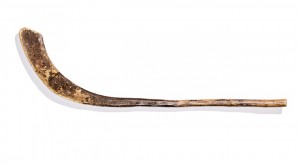 Found in a barber shop in Nova Scotia, purchased for $1000 and sold for $300,000 it didn't even really look like a hockey stick. As it turns out, the stick was handcrafted from a single piece of sugar maple by a member of the Moffatt family somewhere between 1835 and 1838 in Cape Breton.
This amazing hockey collectible now belongs to the Canadian Museum of History in Gatineau becasue it trancends being simply a hockey heirloom. It is a piece of Canadiana and it is indeed being celebrated.
Old is often good when it comes to hockey collectibles. The rarity of such an item is directly tied to it's perceived value.
The other Oldest Hockey Stick Ever ( 'Rutherford stick' )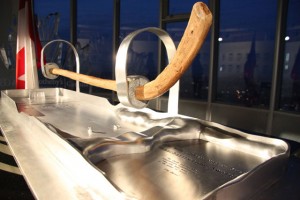 Before the Moffatt stick was discovered, the Rutherford stick was the oldest known piece of hockey history. Believed to have been carved between 1852 and 1856, this stick was put up for auction way back in 2001 for $2.2 million dollars. At one point it had a rumored value of over $4 million.
The final price tag, or exactly when this treasure exchanged hands is not known. The current owner remains anonymous and because of this, there are whispers of doubt floating about it's authenticity. The Hockey Hall of Fame however, has put the stick on display which should be viewed as a good sign.
Real or fake, having the Rutherford stick in your collection takes things to a whole new level.
Wayne Gretzky, 1979 O-Pee-Chee BVG 9.5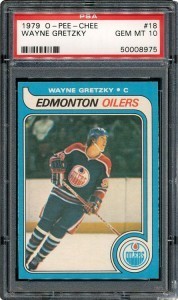 He is the Great One – he is Wayne Gretzky. Regarded as probably the greatest player ever to grace the ice, Gretzky set records that players continue to chase to this day.
Being such a highly respected player, it is no mystery why he has the most highly coveted hockey card. Graded at a 9.5, this specific card is valued at close to $100k. It is very rare, with only a handful of other cards in existence that can compare in quality.
There you go, 5 ultra rare hockey collectibles that you will never lay your hands upon. So what new treasures will you discover? Do not get dicouraged, build your collection with items from your favorite teams, players and moments in hockey history. One day you may stumble on something that is just for you, something very few others can possess… your hockey grail!
For some great hockey autographs to add to your collection, check out our store.