Born July 18, 1989 in Victoria, British Columbia and is a forward currently serving as captain of the Dallas Stars of the National Hockey League (NHL).
Benn grew up playing hockey for the Peninsula Eagles minor hockey association.  He played for the Peninsula Panthers of the Vancouver Island Junior Hockey League (VIJHL), a local junior B team in North Saanich, British Columbia during the 2005 – 2006 season.
Benn was drafted by the Dallas Stars in the 2007 NHL Entry Draft.  Following his draft, Benn began his major junior career with the Kelowna Rockets in the Western Hockey League (WHL).  He scored 65 points in his rookie season in 2007 – 2008.
Benn made the Stars' roster for the 2009 – 2010 season and scored his first NHL goal on October 11, 2009.
At the end of his rookie season, he was sent down to the Stars' AHL affiliate Texas Stars for the 2010 Calder Cup playoffs.  He scored 14 goals and had 26 points in 24 playoff games.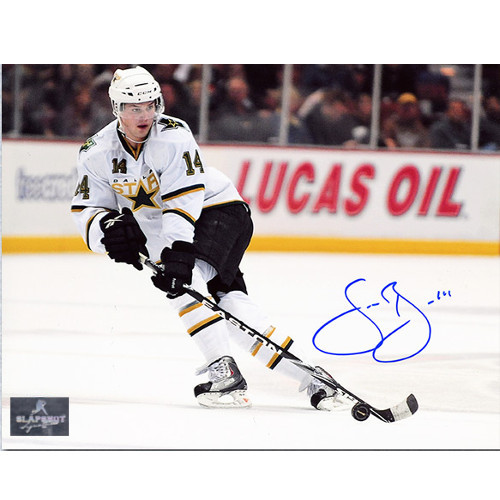 With the 2012 – 2013 season delayed, Benn signed a contract with the Hamburg Freezers of the German DEL for the remainder of the dispute.  Benn missed the first four games of the shortened NHL season before re-signing a five-year contract with the Stars on January 24, 2013.
On April 11, 2015 Benn scored 4 points in the Stars' last regular season game to finish with 87 points for the season and win the Art Ross Trophy.
On July 15, 2016 Benn agreed to an eight-year contract extension with Dallas.
Benn was named to Team Canada during his second NHL season for the 2009 World Junior Championships in Ottawa where he won a World Junior gold medal.
On January 7, 2014 Benn was named to the Canadian Olympic hockey team for the 2014 Winter Olympics in Sochi.  In his first game as an Olympian, he scored the game-winning goal in Canada's first game against Norway.  He scored the only goal in a 1–0 win against the United States in the semi-final to advance Canada to the gold medal game where they beat Sweden 3-0.