Steve Yzerman was born May 9, 1965 in Cranbrook, British Columbia but grew up in Nepean, Ontario.  He is currently General Manager of the National Hockey League (NHL) team Tampa Bay Lightning.  He is widely considered to be one of the greatest players of all time.  Yzerman spent his entire NHL career playing with the Detroit Red Wings and is a member of the Hockey Hall of Fame.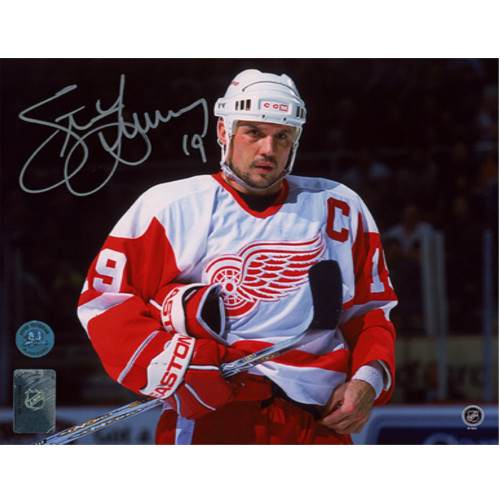 On October 7, 1986 Yzerman was named Captain of the Red Wings and continuously served for the next two decades, retiring as the longest serving Captain of any team in North America major league sports history.  He let the Red Wings to five first-place regular season finals and three Stanley Cup Championships (1997, 1998 and 2002).
Yzerman won many awards during his career, including the Lester B. Pearson Award (most outstanding player) in the 1988 – 1989 season, the Conn Smythe Trophy (most valuable player of the Stanley Cup playoffs) in 1998, the Selke Trophy as the League's best defensive forward in 2000 and the Bill Masterton Memorial Trophy for perseverance in 2003.  He was a ten-time NHL All-Star, a First Team All-Star in 2000.
On July 3, 2006 Yzerman officially retired from professional hockey.  He finished his career ranked as the sixth all-time leading scorer in NHL history having scored a career-high 155 points (65 goals and 90 assists) in 1988 – 1989.  His number 19 jersey was retired on January 2, 2007 (complete with the "C" on his banner).  On November 4, 2008 he was inducted into the Canadian Sports Hall of Fame.  He also became an honoured member of the Hockey Hall of Fame in 2009.
September 25, 2006 he was names as a Vice President of the Red Wings.  He won a fourth Stanley Cup as the VP of Operations in 2007 – 2008.  In May 2010, he was hired as the General Manager of Tampa Bay.
Steve Yzerman represented his Country in several international tournaments as a member of Team Canada.