Wendel Clark was born October 25, 1966 in Kelvington, Saskatchewan.  He was selected first overall in the 1985 National Hockey League (NHL) Entry Draft by the Toronto Maple Leafs.  His professional career lasted from 1985 to 2000.  During his career, Wendel Clark played for the Maple Leafs (on three separate occasions, captain from 1991-1994), Quebec Nordiques, New York Islanders, Tampa Bay Lightning, Detroit Red Wings and the Chicago Blackhawks.
After Clark's rookie season, he was names to the NHL All-Rookie Team.  During a game against the Chicago Blackhawks in 1987, Clark suffered a serious back injury when he was cross-checked into the crossbar of his own goal.
During 1992-1993 season, Clark's second year as captain, the Leafs set team records in wins (44) and points (99) and made the playoffs for the first time in three years.
Wendel Clark gained a reputation for hard-nosed hockey which led to his nickname Captain Crunch.  He was a crowd favorite at Maple Leaf Gardens and won a place in the hearts of Leaf fans.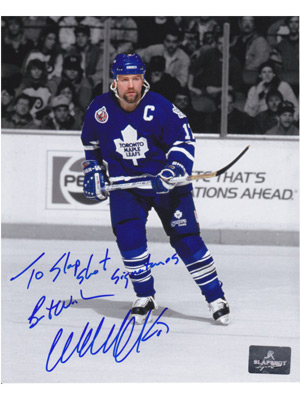 In June 1994, Clark was traded to the Quebec Nordiques playing the lockout-shortened 1994-1995 season.  After the Nordiques came the Colorado Avalanche but Clark became involved in a contract dispute with the team so before the beginning of the 1995-1996 season, he was traded to the New York Islanders.  Clark played 58 games with the Islanders, but finished the season back in Toronto.  In 1998 Clark signed as a free agent with the Tampa Bay Lightning.  He finished the 1998-1999 season with the Detroit Red Wings.  Later in 1999 Clark signed with the Chicago Blackhawks but only played 13 games with the team.  He then returned to the Maple Leafs in 2000.
Clark is now employed by the Toronto Maple Leafs Hockey Club as a community ambassador and public relations.  He can be seen at almost all Leaf home games.  The Maple Leaf honoured their former captain by raising his jersey number 17 to the rafters on November 22, 2008 at the Air Canada Centre.  He owns two restaurants, Wendel Clark's Classic Grill & Sports Lounge.